Rediscover your world at Atlas and Map
The place for your antique maps, plans, books and prints
ordering

Only orginal maps an prints
On atlasandmap.com you can find only original items for sale
You will get a certificate of authenticity with each map or print: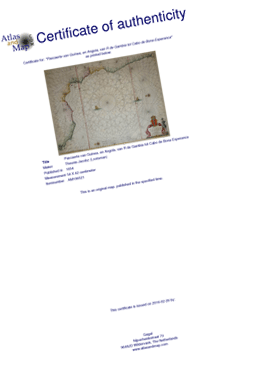 - - - -

Order at atlasandmap.com

Order for print Rotroort by Caspar Merian
The price is: € 26
Your order will be shipped within a week after payment.
Our terms
All maps are original form the mentioned date, unless clearly described otherwise.
When the map does not reach the mentioned quality, we will give you a refund of the price of the map when you will contact us and return the map within one week after arrival of the map. There are no guarantees on framed maps
Your order will be shipped within a week after payment.
Do you need an item faster, please contact us at (+31-6-44478398 (landline) or +31-6-44478398 (cellphone). When you choose regular shipping, You have no right to warranty because of damage caused by shipping.

HOME - MAPS - PRINTS - BOOKS - INFO
New:
---
Maps
South America


---
Kuyper maps
Gemeente Ravestein (Ravenstein)


---
Prints
Nord-Hollande


---
Townplans and views
Ravenstein: Ravestein


---
Books and atlasses
FACSIMILE: Gemeente-Atlas van de provincie Friesland 1861


---
We are on facebook now:

follow us on facebook
for news, highlighted special items and items on your dutch roots.
sitemap
|
recent added
|
inspired by:

|
contact
|
RSS
|

|
privacy